Balancing
The consequences of running any rotating equipment in an unbalanced state are clear: increased vibration, noise, and structural stress, along with decreased product quality and life expectancy, just to name a few. To counter these adverse effects, rotating equipment must be properly balanced to precision levels.
The common element at the core of balancing machines is a precision spindle assembly. The spindle is used to both hold the item to be balanced, while also simulating the rotational force the item will be subjected to in real world conditions. A highly accurate spindle provides more precise readings and adjustments, resulting in more precise equipment.
All Dynomax balancing spindles are unequaled in dependability and repeatability, and offer surprisingly low levels of inertia – a key factor in the balancing equation. Below are some examples of our balancing spindles. Don't see what you need? Not a problem. Our modular production philosophy allows our on-site engineering team to quickly customize one of our base model spindles to meet your specific needs. Try it with our innovative Spindle Creator. Give us your required specs, and we'll send you a quote that meets your particular balancing needs. Not sure what you need? Contact us today and one of our knowledgeable spindle associates will guide you to the perfect spindle for your application.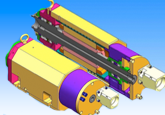 Motorized
Standard Motorized
The engineers at Dynomax set out to create the perfect balancing spindle and the result was our motorized unit, Model 0641. Eliminating the external vibration, noise, and complexity associated with traditional belt driven spindle designs, this unit also simplifies installation and operation with "plug and play" functionality. Without question, Dynomax spindle model 0641 is the perfect balance of motorized capability and precision performance.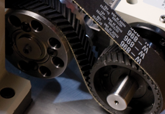 Belt Driven
Belt Driven
While motorized spindles are more commonly being used today due to their superior performance, belt driven spindles are a good option when you need the flexibility of being able to attach them to different motors. Most importantly, Dynomax's Model 0640 belt driven balancing spindle is manufactured with the same precision and quality as our motorized spindles.