Web Specials
08-3A-FM-5-0427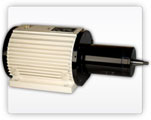 Speed - 3,600 rpm
Power - 5.0 HP * 3.7 kW
Torque - 97.44 lb/in @ 3,600 rpm
Tooling - 1:4 Grinding Taper
Weight - 125 lbs
Combining the perfect mix of power and precision, the Dynomax 0427 model spindle performs where others fail. A hearty spindle in every aspect, the 0427 features a triplex set of bearings in the nose end to increase stability, and a 5.0 HP motor to power through the toughest materials with ease.
Equipped with a standard 3.000 TPF grinding taper, this spindle is a true grinding powerhouse, but it also performs in other applications such as milling, boring, drilling, and turning.
Available in both 5.0 and 7.5 HP models, the 0427 is a versatile member of the Dynomax family. This 5.0 HP model is fully assembled and ready for immediate delivery. See for yourself the difference an exceptional spindle can do for your operations.