Web Specials
07-2A-FM-3.0-0545XL1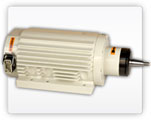 Speed - 3,600 rpm max
Power - 3.0 HP * 3.7 kW
Torque - 180.20 lb/in @ 3,600 rpm
Tooling - 1:4 Grinding Taper
Highlights - Extended barrel variant of our 0545 series.
Weight - 70 lbs
The 0545XL1 is part of one of our most popular spindle families. Powered by a high performance 3 HP motor to speeds of up to 3,600 rpm, this spindle is the backbone of many machines around the globe.
Providing 180.20 lb/in's of torque at 3,600 rpm, the 0545XL1 can be made available with several different tooling options. Standard grinding tapers, collets, CAT, HSK, and more are available upon request. Coming in at 68 lbs, this spindle can be found grinding, drilling, and more at machine shops around the world. Similar to the original 0545, the XL1 modification increases the nose length of the spindle, just an example of how the 0545 can be easily customized without extensive delivery times.
As one of our most popular models, the 0545XL1 can be slightly modified easily to suit customer requirements and often enjoys reduced delivery lead times. Contact us today to see how a 0545XL1 can improve your productivity.