Web Specials
14-2A-FM-3.0-0558CAT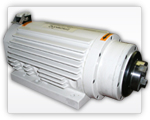 Speed - 3,600 rpm (2 Pole Motor)
Power - 3.0 HP * 2.2 kW
Torque - 180.20 lb/in @ 3,600 rpm
Tooling - CAT-30, Manual Tool Change
Highlights - Our popular 0558 series converted to accept CAT-30 tooling
Weight - 70 lbs
A workhorse spindle in all aspects, the 0558CAT is a foot mounted, torque generating machine supplying an amazing 299.86 lb/in's at 1,800 rpm. The 0558CAT comes standard with a 4 pole motor to generate more torque with a lower maximum speed, but it's also available in a 2 pole option with less torque and a 3,600 rpm maximum speed.
The 0558CAT is an identical sibling to the original 0558 except that is was designed to accept CAT-30 tooling. This modification makes it possible for customers who have existing CAT tooling in their shop and wish to keep all tooling uniform.
Weighing in at 70 lbs, this spindle can be used in many mounting positions, including robotic applications. This spindle is perfect for all types of grinding, milling, boring, turning, facing and drilling applications.