New Releases
16-3A-FM-24-H810937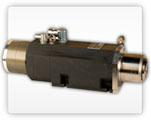 Speed - 18,000 rpm max.
Power - 24 HP * 17.9 kW
Torque - 55.22 lb/in @ 18,000 rpm
Tooling - HSK-63F, Automatic Tool Change
Highlights - Heavy-duty, high-speed spindle. Liquid cooled to provide maximum performance. Three sets of front bearings provide unmatched precision and finish with HSK type tooling. *VFD required.
Weight - 121 lbs
Engineered to be the pinnacle of spindle design and technology, the H810937 is truly a powerful spindle. Equipped with a advanced 24 HP motor, the H810937 easily reaches speed of up to 18,000 rpm while maintaining an astounding 55.22 lb/in's of torque.
Featuring the latest HSK-63F tool holding, the H810937 also boasts automatic tool change capability. A triplex set of bearings in the nose end offers the utmost precision and finish. Liquid cooling provides exceptional heat dissipation to keep the spindle performing at it best longer.
The flagship spindle of the Dynomax high-speed series, the H810937 performs in some of the harshest environments on the planet. Grinding, milling, drilling, boring, turning, facing, and more are all possible with this workhorse. Robotic applications are also possible since all this power and precision is somehow packed in a 121 lbs package.