New Releases
07-2C-FM-6.5-1880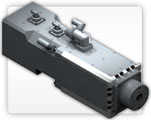 Speed - 18,000 rpm max.
Power - 6.5 HP * 4.8 kW
Torque - 21.15 lb/in @ 18,000 rpm
Tooling - CAT-30, Automatic Tool Change
Highlights - High-speed, fan-cooled spindle eliminates need for external chiller and supporting hoses. Accepts CAT-30 tooling to easily integrate with existing CAT tooling.
Weight - 50 lbs
Designed as a solution to the ever-increasing demand for lightweight, low impact spindles, the Dynomax model 1880 delivers on every level. At 18,000 rpm, this high-speed spindle incorporates the latest engineering innovation and design.
The self-contained cooling fan eliminates the need for external cooling, thus reducing weight and system complexity. With fewer hoses and connections, this spindle is easier to incorporate into new designs or existing machinery, while the automatic tool change feature adds increased functionality. Accommodating the popular CAT-30 tooling taper, the 1880 spindle easily integrates into any shop already utilizing CAT-30 tooling.
Weighing in at a modest 50 pounds, the 1880 can easily be mounted on a robotic machining center with payload to spare. Perfectly suited for light milling, drilling, boring, and machining operations, the 1880 spindle is a true example of how Dynomax puts our experience to work solving our customers' toughest engineering dilemmas.